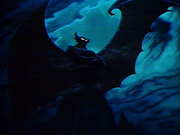 Chernabog (meaning "Black God" in Slavic) is the demonic denizen of Bald Mountain in Walt Disney's Masterpiece, Fantasia, during the Night on Bald Mountain segment, in which he erupts from the mountain and summons an army of demons. He ensues with his devilish antics at night until church bells ringing "Ave Maria" cast him away in the morning.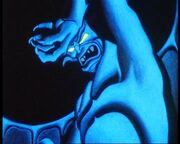 Despite the brevity of his appearance and his lack of a place in a larger story, Chernabog was highly memorable as he symbolizes all that is evil in a sequence that in turn symbolizes the essential struggle between Good and Evil and the eventual triumph of Good.
Ad blocker interference detected!
Wikia is a free-to-use site that makes money from advertising. We have a modified experience for viewers using ad blockers

Wikia is not accessible if you've made further modifications. Remove the custom ad blocker rule(s) and the page will load as expected.